LUMALINK GPS BRACKET
The Lumalink GPS Bracket provides comfortable placement for your GPS. Its design makes the bracket a natural looking fit between your handlebars. The adjustability of the Lumalink GPS bracket gives you the ability to improve your angle of view or to eliminate glare.
The GPS bracket pictured in the photos on the left is specifically for a R1150RT BMW. But it can be adapted for any bike with a bolt pattern for handlebar screws in the range of 58MM to 132MM.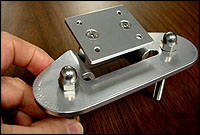 We can custom manufacture a Lumalink GPS Bracket for bikes with different bolt patterns and one-of-a-kind units are no problem. Simply provide accurate measurements when placing your order and your custom bracket is on the way.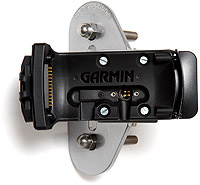 NEW PRODUCT DEVELOPMENT
GPS / Fuse Panel
We currently have in development a GPS Bracket which houses a Centech Fuse Panel between the handlebars of a BMW R1150RT or any other bike with in the range of 58MM to 132MM center distance of screw holes. With this bracket you have the ability to mount up to eight (8) electrical devices and by using only about 12" of wire, connect them easily. You just tilt the GPS forward, remove two (2) screws which secure the Centech cover, insert the positive wire and tighten the set screw, insert the negative wire and tighten a set screw and your device in energized. Adjust the angle of the GPS and the job is finished. This unit will include the Centech Fuse Panel and a relay so that whenever the key is off, all accessories are off. The Centech will be connected to the battery, and the relay will be connected to any "key-on" wire. No more removing cowling components to access the battery every time you add a new device which requires 12 volts. Please contact us for further information on this item and the use of it on another model of bike. (Photographs of a prototype are shown in the left column, last two pictures).