LUMALINK PRODUCTS by Gordy Tool
Lumalink products are created for bikers by bikers. As motorcycle enthusiasts, we like to make our bikes fit our personalities and needs. We came to realize that we needed some things that just didn't exist. Or if we found something intended for that purpose it was light duty, weak and cheap. James Gordy decided it was time to make some products that are up-scale, not mass-produced and flung together by the kazillions, but rather finely-crafted pieces that are for the interests of a specific rider.
Our products are products are custom made to your specifications so that you can know that you have a one of a kind ride.
LUMALINK LIGHT BRACKETS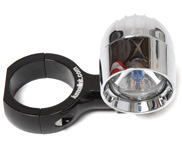 Our motorcycle light brackets are custom machined to accommodate the lights of your choice, the bike of your choice and the color of your choice. Our goal is to provide a set of brackets and lights which, when assembled, will give the rider the lighting desired for their specific riding style and environment.
GPS BRACKET
The Lumalink GPS Bracket provides comfortable placement for your GPS. Its design makes the bracket a natural looking fit between your handlebars. We can custom manufacture a Lumalink GPS Bracket for bikes with different bolt patterns and one-of-a-kind units are no problem.
SWITCH MOUNT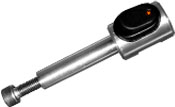 The Lumalink Switch Mount can be effortlessly mounted on either handlebar which has a receiver not used for mirrors. The receiver is in a natural position to operate with your thumb while your hand is still on the grip.
SPECIALTY ITEMS
If you have an idea of some special thing-a-ma-jig that you have wished you had or a special bracket to secure some whistle or bell; Lumalink can make it for you. If you have the ability to provide a crude sketch along with some dimensions, we can make it for you.
Find out more about Specialty Items...