LUMALINK LIGHT BRACKET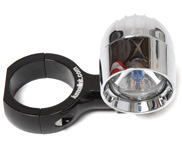 Our motorcycle light brackets are custom machined to accommodate the lights of your choice, the bike of your choice and the color of your choice. Our goal is to provide a set of brackets and lights which, when assembled, will give the rider the lighting desired for their specific riding style and environment.
When considering the lighting for your ride, we do not see many obstacles. Our brackets have a standard profile which is CNC machined. Upon receiving an order, the size of the fork tubes of your bike is given to us and your brackets are machined to that dimension. The end detail is machined to whatever is required to mount the desired lights. One of the more common sizes is the 10 MM stem mount.

Our brackets can be used with the lights on top or underneath. If the lights are on top, the brackets will have a thru-hole and a counter bore on the underside for the hex nut and washer. If the lights are underneath, we will modify the standard factory bracket of the light to convert a stem mount to a hex-head bolt mount and a blind tapped hole on the underside. This leaves the top side of the bracket clean and finely finished.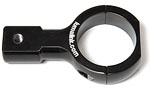 Mounting our brackets is fast and easy; we will never expect you to drill or modify anything on your bike. We use existing mounting features and our brackets can usually be installed in five minutes or less, not including wiring. All of our hardware is stainless steel for long life and resistance to corrosion. Our gallery shows an assortment of some of our work.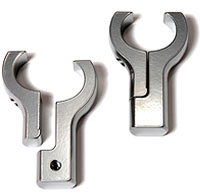 Our most popular colors are powder coat in either reflective chrome or gloss black, but we can supply other colors and are only limited by the selection of paint colors that are available to us. We can also supply our brackets chrome plated.
One set of photos shows a bracket we refer to as the "Twisted Link". These brackets are machined with a spiral or "twist" in them so as to produce a mounting surface that is parallel to the roadway. When ordering these, please allow 3-4 weeks lead time as these are all made to order. Custom brackets will be warranted to fit your forks, based on the information you supply. The clearance required for the lights of your choice will be the rider's responsibility.