LUMALINK SWITCH MOUNT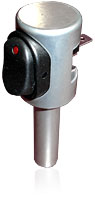 The Lumalink Switch Mount is the perfect match for your newly mounted lights with the Lumalink light bracket. Actually, it can be used for anything you need to turn on and off with ease. And with its classy, sleek design, it will look like a natural part of your bike.

The Lumalink Switch Mount can be effortlessly mounted on either handlebar which has a receiver not used for mirrors. The receiver is in a natural position to operate with your thumb while your hand is still on the grip.
Two versions of the Lumalink Switch Mount are available; a single switch versioin (pictured) and a double switch version. The single holder is made from 1" diameter aluminum and is supplied with various lengths of shanks in 5 MM increments to accommodate different depths of receivers. The stems are 13 MM in diameter and made in lengths of 45 MM, 50 MM and 55 MM. The stems have a 6 MM threaded hole in the bottom and are supplied with stainless steel screws.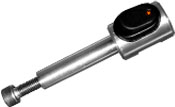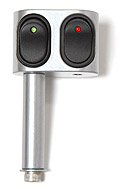 The holders have a 30 amp rocker type switch with an indicator light included as well as blade connectors. These can be used on either handlebar which has a receiver not used for mirrors.
The double holder has two positions for the stem to attach so as to make it useable on either side of the handlebars.